Partridge & Kids Construction is a fully insured, family owned and operated business out of North Anson, Maine. We have been serving our community for over 25 years. We provide residential and commercial site preparation, water and sewer installation, as well as repair – in the Central Maine area. In addition to excavation services, we also provide seasonal snow plowing and sanding in the North Anson/Embden area.

List of Services we provide:
Septic Installations/Repairs
Water Installation/Repair
House Lots
Driveways
Retaining Walls
Tree/Branches/Stump Removal
Dug Wells
General Landscaping
Demolition of Structures
Sand Gravel & Loam Delivery
Snow Plowing/Removal
Sanding
We also have a gravel pit in Concord Township, in which we can either deliver yard loads to you or you can stop by and we will load your truck/trailer.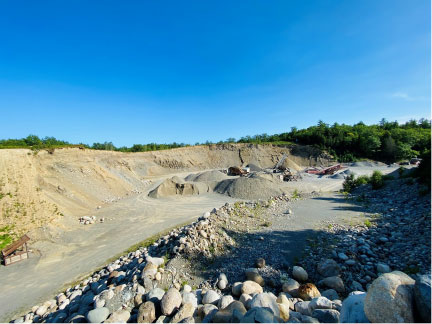 Product List:
(All products are subject to availability)
3/8" Screened Sand
5/16" Surface Gravel
1" Gravel
2" Gravel
4" Gravel
¾" Stone
1 ½" Stone
2"-4" Stone
6" and up Stone
1" Screened Loam
¾" Round Rock
3/8" Pea Stone
½" Blend
1 ½" Blend
Crusher Dust
Salted Sand
Recycled Asphalt
Erosion Control
Compost
Sand
This is considered a "clean fill" because it does not contain rocks and roots. Best used for fill under topsoil, fill for large holes, or backfill.
Gravel
The gravel is made up of rocks, dirt and stones. It's best used for
filling large areas and a good driveway base.
Loam
Loam is soil composed of sand, silt, and clay that is considered ideal for gardening and agricultural uses.
Contact Us for your free estimate
Phone: (207) 635-2806
Email: dlpdkp87@tds.net
Address: 38 Bailey Drive North Anson, Maine 04958